april 2017
Featured Miler - laurie portner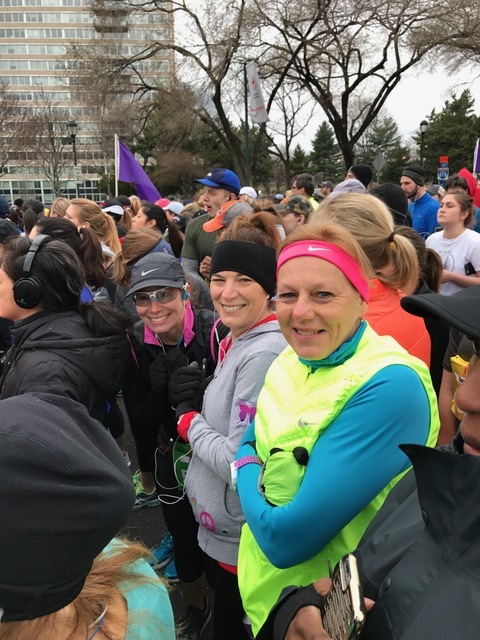 Member: Laurie Portner
Number of years as a Miler: A PROUD 6 months!
Who introduced you to the Milers: Karen Kaighn suggested I run with the Thursday Night group…..it's been all "up-hill" since then
Running Pet Peeve: Cars not compassionately giving us more room!
Most embarrassing running moment: oooh…..definitely when my White Knight "Ron Bailey" pulled up alongside Val & I as we were wandering around "LOST" in Highbridge after a speed workout and still a mile from the car at 5:30 AM. The embarrassing part is when Ron asked if we wanted a ride and we had no idea he was a Miler! Thank you for saving us Ron!
Favorite race distance: 15k…..or any race towards food!
What do you do for a living: I'm a sales representative for GlaxoSmithKline Pharmaceuticals
Food weakness: How many can I list? All sweets……CHOCOLATE, ICE CREAM….Etc.
Favorite movie / TV series: No favorites….a recent movie that I loved was "BELLE"….not Beauty and the Beast….though I love that too…
Dream vacation spot: Wherever friends & family are….wooded mountains by a lake, warm sunshine
People say you look like: Helen Hunt?
Secret hidden talent: It's not so secret….but each year I crochet blankets for the Organization Warm Up America
Favorite restaurant: Oarweed in Perkins Cove, Maine
Favorite sport / team: Running with my daughters, watching my son play Rugby….seeing how happy golf makes my husband
Running advice: If you are persistent, you will get it. If you are consistent, you will keep it!
Future running goal: I promised Jo Ann Goldilocks I'd run the New York Marathon with her……some day!